Cultivator KMN(LCC) - inter-row cultivator
Inter-Row cultivator KMN (a functional analogue of the cultivator KRN) is designed for inter-row cultivation of eight and twelve row crops tall row crops sown with row spacing of 450 mm. or 700mm or more. In all soil-climatic zones.
A worker processing speed is 10km/hour (not more) that delivers performance in one hour of treatment, respectively, and 6.0 / 5.8 and 4.5 hectares, excluding areas with stony soils.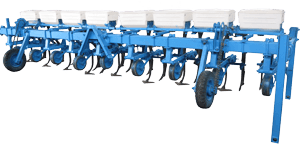 KMN-5,6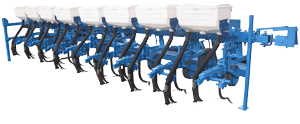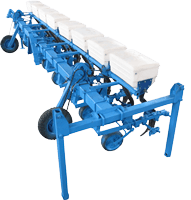 Technical characteristics of cultivator KMN.
 
without fertilizer devices
with fertilizer device
Name
KMN-4.2
KMN-5.6
KMN-5.4
KMN-4.2-01
KMN-5.6-01
KMN-5.4-01
Machine type
Hinged
Tractor power
60 HP
80 HP
60 HP
80 HP
Inter-row distance
700 mm.
450 mm.
700 mm.
450 mm.
Konstruktivnaya width
4,75 m.
5.65 M.
6.1 m
4,75 m.
5.65 M.
6.1 m
Working width
4.2 m.
5.4 M.
5.6 m.
4.2 m.
5.4 M.
5.6 m.
Working speed
10 km/h (maximum)
Productivity 1 . not less then
4,5 Ha/h.
5,8 Ha/h.
6.0 Ha/h.
4,5 Ha/h.
5,8 Ha/h.
6.0 Ha/h.
The number of sections
7
9
13
7
9
13
Depth complete
6 - 16 see
Ground clearance
300 mm (minimum)
The amount of fertilizer cans
no
6 cans
8 cans
6 cans
Weight kg.
650 kg.
920 kg.
1200 kg.
840 kg.
1150 kg.
1400 kg.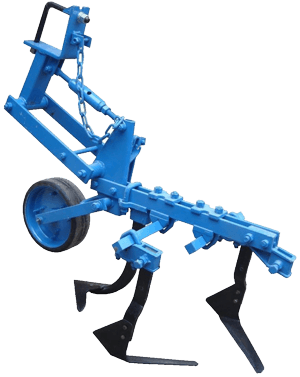 LCC section with the working bodies
Miiduranna Cultivator KMN (KPH), depending on the established working bodies and devices and their installation can perform the following operations:
Cutting weeds and loosening the soil in the row spacing

Cutting irrigation furrows

Hilling plants

Processing protection zones row method of seeding weeds

Fertilizing plants with mineral fertilizers with the installation of a fertilizer distributing apparatus of the type ATP-2

Seedbed preparation

Harrowing between the rows (if the corresponding working bodies)

In a hinged parallelogram suspension frame sides, providing reproduction of soil in the processing set two-sided closed ball bearings, which significantly improves the performance of the cultivator

due to the lack of sliding friction dramatically reduces the vertical movement of the beam, which significantly improves the reproduction of the soil

spaced bearing supports to provide horizontal stability of the frame sides, so there is no risk of damage, as a protective zone and sowing

due to the lack of clearances in joints cannot penetrate foreign bodies and dirt, which can cause jamming of the frame sides with the working bodies and, as a result, poor soil

not required lubrication of the joints, as in bearings employ lubrication for the entire service life.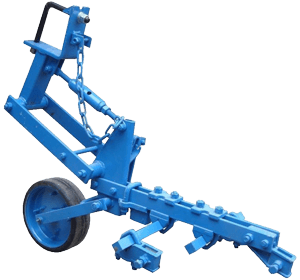 without working bodies
The transport device serves to transport the cultivator on public roads. Agregate allows you to adjust the tiller end to the tractor and at the proper reinstallation of wheels to transport it in Polonaise.
Cultivator KRN (KMN) is aggregated with tractors of traction class 1.4-2.0 KN. (50/52, MTZ; MTZ 80/82; ЮМ36А/6АМ).
Cultivator KRN (KMN) is available in the following versions:
KMN-5.6 – a width of 5.6 m for processing the rows of 700mm, 9 sections of the working bodies

KMN-5.6-01 – width 5.6 m to handle the 8 row spacing 700 mm simultaneously and fertilizer , 9 sections of the working bodies, equipped with a fertilizer distributing apparatus on the basis of the ATP-2 (orders from customers). The amount of fertilizer cans - 8 PCs.

KMN -5.4 - width 5.4 m for 12-and row spacing of 450 mm 13 sections of the working bodies

KMN-5.4 -01 - width 5.4 m to handle 12-row spacing and fertilizer application , 13 sections of the working bodies, equipped with a fertilizer distributing apparatus on the basis of ATP -2 ( according to consumers ' orders). The amount of fertilizer cans - 6 PCs.

KMN-4.2 – width of 4.2 m for processing the rows of 700mm, 7 sections of working organs

KMN-4.2-01 – a width of 4.2 metres to handle 6 rows of 700 mm at a time and fertilizer application , 7 sections of the working bodies, equipped with a fertilizer distributing apparatus on the basis of the ATP-2 (orders from customers). The amount of fertilizer cans - 6 PCs