Harrow is designed for continuous and pre-treatment of soils of different mechanical composition under technical, grain and fodder crops and chopping and incorporation into the soil of plant residues (refreshment Saturnalia meadows) in various agro-technical schemes. Adjustable treatment depth is approximately 8 to 18 cm.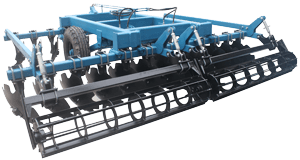 BDVP-4,2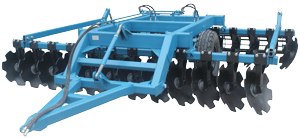 Specifications.
Name
BDFP-2,4
BDFP to 2.8
BDFP-3,1
BDFP-3,5
BDFP-3,8
BDVP-4,2
Type
Trailer
Working speed
8-12 km/h
Depth of processing of soil
8-18, see
Height in transport position
1400 mm.
Height in working position
1100 mm.
Length
4940 mm.
Width
2.4 m.
2.8 m.
3.1 m.
3.5 m.
3.8 m.
4.2 m.
Productivity
Of 1.9 Ha/h.
2.2 Ha/h.
2.5 Ha/h.
2.8 Ha/h.
3.1 Hectares/h.
3,4 Ha/h.
Tractor power
80 HP
100 HP
130 HP
160 HP
180 HP
200 HP
Transport speed, no more
20 km/h
Number of working organs
14 stands
16 stands
18 stands
20 racks
22 stands
24 stands
Number of rollers
1 rink
Rink 2
Ground clearance, not less
300 mm,
Translation in transport and working position
Hydraulic wheel transport disc harrows, connection to the tractor hydraulic system
Weight
1400 kg.
1630 kg.
1850 kg.
2000 kg.
2250 kg.
2400 kg.
Trailed Harrow BDVP is produced with working width from 2.4 to 4.2 metres. The plate is equipped with cylindrical rollers with a diameter of 400mm.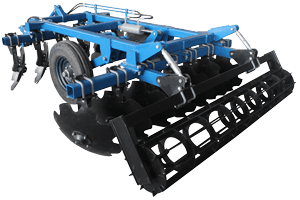 BDFP-2.4

Harrow has two rows of discs, each located on an individual rack, which is attached to beam two l-shaped brackets (diameter 20 mm). This design eliminates the clogging inter disc space. The harrow can be operated in all soil-climatic zones where soil moisture is not privyshaet 27% and the soil hardness is not greater than 3.5 MPa, as well as not use this harrow in areas with significant stony inclusions. Due to the use in the construction of individual stands front harrow can be used at high operating speeds up to 14 km/h.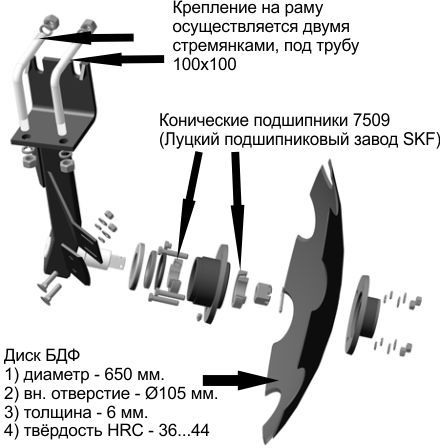 Stand BDF-BDFP
Disk working body, representing mounted on the hub of the cut-out spherical disk (camomile), with a diameter of 650 mm. and thickness 6 mm. with internal grinding around the circuit. Due to the special geometry trnaleu racks installed at the optimum angle of attack to the line of thrust and the angle to the vertical, which provides quality crushing, grinding and circulation of the shear layer.
Unlike similar machines from other manufacturers the design of the harrows used wheels Daisy (cut spherical) with a diameter of 650 mm, thickness 6 mm, made of steel grade 65G. During the manufacture of the discs heat treated, which ensures hardness of 36-42 HRC.
The discs are mounted on hubs that brasatsa around the axis of the roller bearing (Bearing 127509 - UAZ-ovsky hub) nodes at the angle of attack and vertical inclination of 21 degrees.
Metal bellow which is installed on axis in the Assembly overlaps the hub, forming a protective construction, which is padded cuff with a seal inside and abs outside. The unit is very well sealed from the external environment due to the design.
Fixing and regulating nut hub bearing is closed with the flange cap, which performs two functions :
Chistik two bolts with a square head attached to the bracket with two grooves, which, in turn, welded to the rack and when the harrow cleans working on (disc BDF chamomile) against buildup of soil, climbing plants, clogging of crop residues and directs the flow of the soil in the direction of the granulating and wrapping it.
Harrows rear rollers provide two functions:
In addition to the above functions using the rink for mounted harrows exhibited soil treatment depth that varies as stated above from 8 to 18 cm.
The necessary depth of loosening and stable running of unit-harrow-tractor is provided with lanyard (screw mechanism with right and left thread), which provides adjustment of the vertical position of the rink .
Harrow is attached to is equipped with a hydraulic system tractors with power from 80 (for trailed harrows BDFP-2.4 GHz) to 200 (for trailed harrows BDVP-4,2) horsepower depending on the width.
With lanyards you can adjust the height of the stroke (depth) of the plate roller with a diameter of 400 mm.
The design of the attachment allows you to shift the rink (peredvigat) rink to the left or right (if necessary).